Within the next 30 seconds, you can have the intimate details of three "Stealth Stocks" - personally identified by legendary investment advisor Dennis Slothower - delivered straight to your e-mailbox...FREE of charge.

"Stealth Stocks" are those undervalued companies with strong fundamentals... given scant attention by Wall Street... and unknown to most brokers.

By investing in these extraordinary stocks before others have even heard of these companies you'll have a significant advantage over the masses.

But don't just take my word for it. Find out for yourself when you take a look at Dennis Slothower's FREE report, "Three Stealth Stocks Ready to Soar."

Simply fill in your e-mail address in the box below, and you'll have your FREE report in a matter of seconds. It's as easy as that...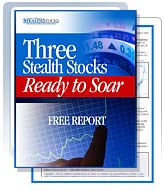 Enter your
email below
to receive this
free report