You can't afford NOT to take advantage
of this special offer to get your FREE copy of...
"Five Stealth Stocks
Ready to Explode!"
Yours at absolutely NO COST with your risk-free, trial subscription to my "STEALTH STOCKS" newsletter.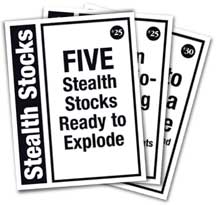 Dear Investor:

Let's face it. It's a tough time to be an investor. The market is up…then down…then down some more. Trillions of dollars have been lost by investors – perhaps including you – who believed they were making the right decisions and that their money was safe and sure to keep growing.

Portfolios that once were flush with profits are now empty or near empty.

No wonder investors are scared stiff.

But now there's a way you can recoup any losses you might have suffered. There's a way you can not only avoid red ink in the future, but actually post huge gains even when all around you are losing their shirts. And you can post these gains no matter what happens to the broad markets!

How is this possible?

It's easier than you might think, provided you invest in what I call "stealth stocks" – companies that are overlooked by the media and by Wall Street analysts who are more interested in hype than in hard facts and fundamentals.

My name is Dennis Slothower. I'm the editor of Stealth Stocks newsletter and I'm an expert at identifying these "below the radar" stocks. In fact, I'm good enough at what I do that I've been featured numerous times in Barron's Market Watch. And I'm writing to you today to invite you to profit by investing in the most powerful stocks around. When you do, you'll be in position to…

Earn profits of 67%… 95%… 122% or more…
While keeping losses to a razor-thin minimum!

In a moment, I'll explain how this is possible. First though, I'd like you to imagine what your net worth might be today – and how comfortable you would be – if you had been able to take my advice to…

Buy shares of Cubic – an electronics company – at $21.59…and then sold it 12 weeks later – on my advice – for $25. (That's a gain of 28% in three months – or an annualized return of more than 100%!)


Purchase shares of Ameristar, a gaming company, at $19…and then sell in 3 months at the $25.54 level…for a gain of 34%. (A $19,000 stake would have given you profits of more than $6,500 in just 12 weeks!)


Buy Novastar Financial – a financial services company – when I first recommended it about a year ago at the $15 level. Right now, the company's shares are trading at about $24…an increase of 60%. (And this stock-still has a lot of upside potential!)

Profits of 340%…in just 10 months!

But these are just a few examples of the kinds of steady gains that can be yours…starting immediately…by investing in the "Stealth Stocks" I regularly uncover for my clients. Including stocks like these…

Novastar Financial…up more than 60.12% in 10 months.


J2 Global Communications…up 62.50% in just 4 months.


Fidelity National Information…up 82.67% in 8 months


Blue Rhino…up 123.57% in 9 months.


And the biggest winner of them all…

Immucor…up 340% in 10 months.

But there's more to making money in the market than picking winners. There's also the important business of not losing money. And that's where we really shine. That's because the proprietary system I use to identify "Stealth Stocks" ripe for purchase also tells me (and I tell you) exactly when to sell to maximize profits while avoiding losses.

And that's how we can help you…

Earn profits… and maybe grow wealthy…
even when the market is in the tank!

Sound too good to be true?

Well, it's not. In fact, since 1987, I've made millions of dollars trading "stealth stocks" like the ones I've already mentioned for my clients' managed accounts…and for investors who regularly receive my "Stealth Stocks" advisory. And I've made profits like these…regular gains of 50.33%…60.59%…123.75%…even 340.21%…while the "typical" investor was losing his shirt and stock prices were skidding.

We do this – quite simply – by investing in stocks the average investor or analyst never even think of. These are stocks with fundamentals that "guarantee" big profits in a matter of just a few weeks or months. They're stocks that don't even show up as "blips" on Wall Street's radar…stocks that can easily double or triple in value, even if the market stumbles.

These are stocks you'll never, ever discover in the mainstream media…or from a broker…because they're too busy buying into the "conventional wisdom. They're already focused on the same stocks everybody is focused on. And, quite simply, that's a way to lose money…not gain.

How so?

Well, by the time "everybody" knows about a stock, the profits have already been made…and you're likely to be the "last buyer," the one that gets taken to the cleaners.

That's why I focus on undiscovered stocks. Stocks with such good fundamentals that they're going to skyrocket…no matter how lousy the rest of the market is doing. The "stealth stocks" that can bring you big profits, and maybe even make you rich!

"A good friend of mine lost $3 million by staying in the market when you suggested getting out. I made 20% that year and have told everyone I know that I owe that to your advice. "Keep up the good work!!!"


— John B., Rocklin, CA

Fool-proof downside protection…

Every savvy investor knows the value of stop-loss orders to guard against big price drops. And, needless to say, I strongly advise the use of stop-losses.

But I go a step further. I constantly monitor the stocks I recommend and then continually adjust stop-loss points to reflect market strength and volatility.

Allow me to explain.

If I recommend a particularly strong stock in a volatile market, I'll widen the recommended stop-loss to make sure you don't get "stopped out" of a great stock just because of a temporary downside blip.

If, on the other hand, I see weakness in a recommended stock, I'll send an e-mail alert telling you to narrow the margin between the price and stop loss point. That way, you'll never take a big hit that might have been avoided.

Here's a real-life example.

Late last year, I recommended Red Hat at a price of $5.35…with a stop loss at $4. Within weeks, the stock headed higher, and we moved the stop loss up to $6.75. Then – though the stock edged higher still – I left the stop loss at $6.75 because I saw signs of weakness.

And guess what? Red Hat lost ground – and my followers were stopped at $6.75…for a gain of $1.40 per share. But without that stop loss, they probably would have followed Red Hat down…all the way to $4.33…for a LOSS of more than 35%.

With this kind of control, your gains are protected…and losses held to a minimum. And that means you can expect…

Big profits even in down markets…

How good is my proprietary system?

Well, consider this. From December 31, 1994 to October 31, 2002, the cumulative return for my aggressive growth portfolio was a whopping 235.7%. And that is more than 3 times the 76.63% earned by the NASDAQ during the same period. (These results are from the prestigious Hulbert Financial Digest, an independent tracking service.)

But what's even better was that during the bear market from December 31, 1999 to October 31, 2002, the cumulative return of the same portfolio beat the NASDAQ by an amazing 80%!

Five stocks that are ready to skyrocket to the moon!

The good news I have for you is that right now – even though the market is in the doldrums there are still opportunities to make the big profits I've been talking about. In fact, my proprietary computer stock screening program has identified 5 of the best "stealth stock" profit opportunities I've ever seen.

I've put my full research recommendations on these 5 stocks – Stealth Stocks that are ready to soar in value – in a new special report, 5 Stealth Stocks Ready to Explode.

But there's even better news…great news, in fact. And that news is that now you can receive a FREE copy of this new special report simply for taking my Stealth Stocks newsletter for a completely no-risk "test drive."

With my newsletter at your fingertips…and your own free copy of my special report…you'll be ready to rake in big profits no matter what the market does…and even as other investors you know are losing their shirts.

Here's what you get in every issue of my monthly newsletter…

Market Outlook. My analysis of news, economics, politics, the Fed, the money supply numbers, and technical indicators that explain where the market is today…and where it's heading in both the short- and long-term.

Stealth Stock of the Month. You get my full research report on the #1 stealth stock I am recommending that month…a stock that's ready to give you quick profits of 50%, 75%, 100%, or maybe even 200% in a matter of weeks or months.

12-Month Doublers. These are the five stocks I fully expect to double in value (or maybe more) within the next year.

Watch List. These are stocks that appear ready to become "stealth stocks" – all that's needed is a change in one or two indicators.

Monthly Portfolio Tracker. This is a monthly record of how each of my five recommended portfolios – income, growth and income, moderate, aggressive, and trading – are performing.

But that's not all…

In addition, as a subscriber to my Stealth Stocks newsletter you'll receive free weekly market update e-mail alerts. These give you up-to-the-minute market and company news that's too important to hold…the kind of news you can turn into quick profits. In addition, each weekly e-mail update includes any stop-loss adjustments for all the stocks included in my recommended portfolios.

The bottom line?

Thanks to my proprietary system and my constant "hands on" management of every trade, you always know exactly what to buy, sell or hold…and exactly when to trade for big profits!

"Your comments are honest and to the point. Out of the five I take I believe you have the best newsletter on the Web."


— Robert H., Sammamish, WA

A very special opportunity to save up to $227!

Normally, a 1-year subscription to Stealth Stocks costs $198. And I believe it would be a bargain at several times that low cost. However, I truly want you to profit…and maybe even grow wealthy…with my guidance. So I've created a very special offer.

Now you can subscribe to Stealth Stocks for one year for just $99 (a 50% savings). As a 1-year subscriber, you get 12 monthly issues, 52 weekly market updates, and your own copy of my new free report – 5 Stealth Stocks Ready to Explode.

Or, if you want even bigger savings and a better deal, subscribe for 2 years – that's 24 monthly issues plus 104 weekly updates – for just $169. That represents a whopping discount of $227 off the regular 2-year subscription rate of $396. And, of course, you'll also get your own FREE copy of 5 Stealth Stocks Ready to Explode.

Your satisfaction is completely guaranteed!

That's correct.

You see, I'm so sure that you'll be satisfied with Stealth Stocks that I'm willing to give you an iron-clad guarantee.

Click on the link below. Simply fill out the brief order form and click to start your subscription. Once you receive your first issue of Stealth Stocks take a look at it. Read it over. Put my advice to work. Then, if – at any time during the next 60 days – you decide my guidance and advice aren't every bit as good and profitable as I say or if you're simply unhappy for any reason, just let me know. I'll personally see to it that you receive a refund for the full cost of your subscription. – And of course, you'll get to keep your free special report, just for trying my advisory service.

That's a strong guarantee, I know. But I'm comfortable offering it because I know you'll be satisfied. In fact, I'm positive that once you experience what Stealth Stocks has to offer, you'll be a satisfied client for years to come.

If you want investment advice and guidance that will bring you profits of 50%...100%...or maybe even 200%, I urge you to become a Stealth Stocks subscriber today!


P.S. Remember, your satisfaction is GUARANTEED. If you're not happy at any time during the next 60 days for any reason (or even for no reason), just let us know and we'll gladly refund the full cost of your subscription…. No questions and no hassles. You keep all issues you have received as well as the Free Report. That way you risk nothing. So don't delay. Start today to earn regular double- and even triple-digit profits, no matter what's going on in the market.
Money-back guarantees, and refunds. Regularly priced one-year and two-year subscriptions offer limited money-back guarantees. We do not give pro-rated refunds after the applicable guarantee has expired. Some very discounted offers are non-refundable. Please read the promotion carefully.
Please note: All profit examples are hypothetical, assuming that subscribers bought and sold at the time the recommendations were issued. Actual results can and do vary based on day of execution and commission charges.
There is a very high degree of risk involved in trading. Past results are not indicative of future returns. Eastman Communications, Inc. and all individuals affiliated with Eastman Communications Inc. assume no responsibilities for your trading and investment results.
Eastman Communications, Inc publishes Dennis Slothower's Stealth Stocks. As a publisher of a financial news magazine of general and regular circulation, we cannot tender individual investment advice. Only a registered broker or investment advisor may advise you individually on the suitability and performance of your portfolio or specific investments.
In making any investment decision, you will rely solely on your own review and examination of the facts and the records relating to such investments. Past performance of our recommendations is not an indication of the future performance. The publisher shall have no liability of whatever nature in respect of any claim, damages, loss or expense arising out of or in connection with the reliance by you, on the contents of this update.
The Editor, Publisher, and directors of Eastman Communications, Inc. flatly promise no front-running. We will not initiate a position in any stock we have recommended for 10 business days before our original recommendation and 10 days after any subsequent recommendation. Any one who does is fired immediately. If you need assistance with customer service, such as questions regarding your subscription or change of address, simply call our staff at 1-718-891-5900 ext. 11, or send an e-mailto:[email protected]