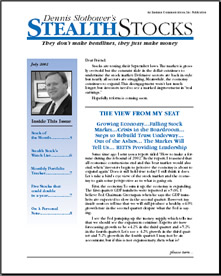 Stealth Stocks: A Guide for
Serious Stock Investors

Stealth Stocks provides tools, strategies and recommendations for serious stock investors that can unfold opportunities for increased profits while reducing investment risk. My approach includes cyclical, technical and fundamental analysis of stock market data. I combine high inherent value with high relative strength and regularly find super winners ... Stealth Stocks !

My service includes a weekly update of all portfolios (by email), an alert update when the market moves an unusual amount (by email), and a printed monthly newsletter covering the market conditions, portfolio performance, and prospects for the upcoming month with unique investment advice from me, Dennis Slothower.
Every issue of Stealth Stocks contains an up-to-the-minute analysis of current market conditions - especially important in this post-terrorist time. You'll also find a rundown of the very best Stealth Stocks for a particular point in time. The Stability, Inherent Value and Relative Performance rank for each stock is listed so you can assemble a portfolio of stocks that are over-weighted in one or more of these important variables in order to achieve a particular investment goal.
Or you can do things the easy way by following one of my five model portfolios:
In addition to the newsletter, weekly update, and alert updates, you'll also have 24/7 access to my subscribers-only website and unlimited access to my pre-recorded telephone hotline that alerts you to rating changes and crucial breaking market news.

Stealth Stocks may not make the major news headlines, but it can make you money, even in down markets, because these stocks are the ones that have Stability, Inherent Value, and Relative Strength. Let me help you recoup your losses from the recent downturns by investing with me ... in Stealth Stocks!!
---
There's no assurance the past performance of these, or any other recommendations in the newsletter, will be repeated in the future. Information on this Web site and in this publication is based on information and research believed to be reliable, but its accuracy cannot be guaranteed. Eastman Communications, Inc., its editors, and its writers cannot be held responsible for errors and omissions.


HOME

| ©2004, Stealth Stocks - Eastman Communications, Inc.